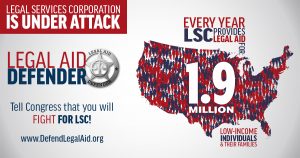 Today, the President released his budget framework, including a proposal to eliminate the Legal Services Corporation, the largest single national funding source for free civil legal assistance to low income Americans. The Wisconsin Access to Justice Commission strongly urges Congress to continue its longstanding bipartisan support of LSC and reject this budget proposal. Eliminating LSC would undercut America's promise of equal justice for all and harm our state justice system.
In Wisconsin, LSC provided $5.2 million in 2016 to two organizations, Legal Action of Wisconsin and Wisconsin Judicare, allowing them to provide free legal information, advice, and representation on civil matters to over 9,000 low income Wisconsin residents in cities, towns, and villages across Wisconsin. Together, these two organizations help people who have basic civil legal problems with their housing, children, safety, health care, and incomes.
Access to civil legal aid ensures fairness for all in the justice system, without regard to how much money you have. LSC funding in Wisconsin helps remove barriers to employment, obtain child support orders, prevent homelessness, and protect abuse victims. Hundreds of Wisconsin attorneys donate over $1 million of their time each year by volunteering through Legal Action of Wisconsin and Wisconsin Judicare. However, these organizations depend on LSC funding to provide volunteer training and support. Without the critical legal help that LSC funds, more people will be forced to go it alone in our legal system, leading to higher costs, clogged dockets, and further injustice.