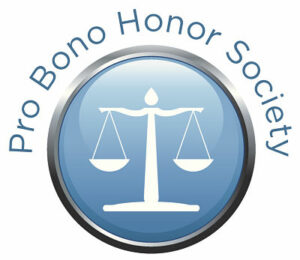 The Commission created the Wisconsin Pro Bono Honor Society with support from the State Bar's pro bono program to honor Wisconsin lawyers who have performed at least 50 hours of qualifying pro bono legal services during the past calendar year. We are proud to offer this opportunity to recognize volunteer lawyers who help to provide equal access to justice under law. Attorneys may certify that they or another attorney qualify. Law firms, judges, and pro bono organizations who are knowledgeable about an attorney's pro bono work may also certify attorneys who meet the criteria. We begin accepting certifications  each fall through the form below.
Certification
Attorneys are eligible for certification if they are in good standing with the State Bar of Wisconsin and have performed at least 50 hours of qualifying pro bono legal services during the preceding calendar year. Qualifying pro bono legal services for this program means the direct provision of legal services without fee or expectation of fee, or at a substantially reduced fee, to:
persons of limited means;
organizations in matters that are designed primarily to address the needs of persons of limited means; or
charitable, religious, civic, community governmental and educational organizations to secure or protect civil rights, civil liberties or public rights so long as a substantial majority of such services benefit persons of limited means or organizations that serve persons of limited means
Frequently Asked Questions
What does inclusion in the Wisconsin Pro Bono Honor Society mean? It doesn't mean that you have to go to more meetings or incur other obligations. We  have two goals: highlighting the important role that volunteers play in access to justice and encouraging other lawyers to follow your example. We publish an annual list of the honorees on the Access to Justice Commission and State Bar websites and in our publications. The Commission works with the Wisconsin Supreme Court, bar associations and judges to organize state-wide as well as local recognition events. We will also be contacting local media to highlight the pro bono contributions of lawyers in each year's Pro Bono Honor Society.
Do only free legal services qualify? No, substantially reduced fee legal services also qualify. Some examples include: public defender appointments, GAL appointments, and Wisconsin Judicare cases.