Please join us in welcoming David Harth, the Commission's newest member. David is a partner in the Madison office of Perkins Coie. He was appointed to the Commission by the State Bar of Wisconsin. David has spent his career handling high-sta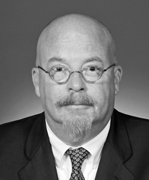 kes civil litigation, often involving complex scientific and technical issues. He has more than 30 years of experience trying all types of cases, including patent, trademark and copyright infringement, product liability, environmental damage, engineering and accounting malpractice, civil rights, public law, securities fraud, insurance recovery, and UCC actions. He also has considerable experience arguing cases in federal and state courts of appeal. For the past 20 years, he has focused on intellectual property litigation and has served as lead trial counsel in a number of high-profile patent and trademark infringement cases.
David also has a long history of making pro bono legal services to the poor an integral part of his law practice. In 2010, he received the Wisconsin Equal Justice Fund's Howard B. Eisenberg Lifetime Achievement Award. His commitment to pro bono service has also been recognized with pro bono awards from the State Bar of Wisconsin (2010) and the Dane County Bar Association (2009). From 1994-2009, Harth served as Chair of the Western District of Wisconsin Bar Association Pro Bono Committee. His efforts are part of a large, firm-wide focus on giving back through pro bono service.