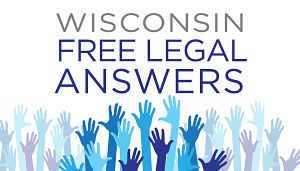 Wisconsin Free Legal Answers is an easy to use service that allows people to get brief legal advice from licensed Wisconsin attorneys. Our free, online legal clinic is always open. Attorneys volunteer their time to answer civil legal questions from eligible individuals. Not everyone will qualify but most people do. All communications are confidential. To ask a question, go to wi.freelegalanswers.org and click on Get Started to create your free account.
Volunteers can help with questions about any civil (not criminal) law topic, including divorce, child custody, child placement, tenant-landlord, debts or purchases, bankruptcy, real estate, probate, and employment issues.
Attorneys, you can earn CLE credit for your volunteer time providing legal advice through this project. To volunteer, go here.
Our volunteers have helped thousands of clients. But more people need help and don't know where to start. Help us get the word out. Download this printable flyer (pdf) and post it in your courthouse, library, agency, senior center, grocery store or anywhere else that you think is appropriate.
This service is part of the national Free Legal Answers network which was developed with assistance from the American Bar Association, the  Tennessee Access to Justice Commission, the Tennessee Alliance for Legal Services and the Baker Donelson law firm.