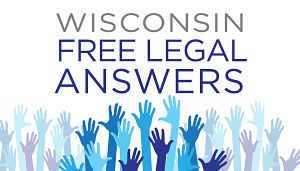 Wisconsin Free Legal Answers provides an easy to use way for eligible members of the public to obtain brief legal advice from licensed Wisconsin attorneys. Our free, online legal clinic is always open. Attorneys volunteer their time to answer civil legal questions from eligible individuals. All communications happen through the website. To ask a question, go to wi.freelegalanswers.org and click on Get Started.
Attorneys, you can earn CLE credit for your volunteer time providing legal advice through this project. To volunteer, go here.
Our volunteers have helped hundreds of clients. But more people need help and don't know where to start. Help us get the word out to the public. We have a printable flyer (pdf) for clients that you put up in your courthouse, library, agency, senior center, or anywhere else that you think is appropriate.
This service is part of the national Free Legal Answers network which was developed with assistance from the American Bar Association, the  Tennessee Access to Justice Commission, the Tennessee Alliance for Legal Services and the Baker Donelson law firm.