By Rita Lord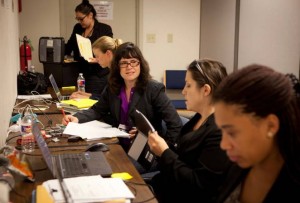 In early 2014, amid a crush of thousands of Central American families caught crossing the border illegally, the federal government expanded the family detention system it had downsized just a few years ago. That set the stage for a remarkable effort to recruit volunteer lawyers from across the United States to travel to remote detention centers and provide legal representation to immigrant adults and children. In 2009, the federal government stopped detaining women and children at a facility near Austin, Texas, following allegations of stark conditions and sexual abuse, and announced that no new family detention centers would be built. Since 2009, women and children seeking asylum had generally not been detained while their asylum cases were pending. In response to the new wave of immigrants, new family detention centers were opened at several locations, including on the site of a law enforcement training center in Artesia, New Mexico, 238 miles southeast of Albuquerque. The Artesia center housed hundreds of women and children who had been detained by immigration authorities.
When immigrants arrive at a detention center, they are interviewed to determine whether they have a "credible fear" of being sent back home. If no credible fear is found, they may be deported, unless that finding is reviewed and overturned. If credible fear is found, a bond hearing is held.  Hearings in Artesia were conducted in an on-site courtroom/trailer, where an immigration  judge appeared via video conference. At the hearing, bond is set; but detainees are released on bond only if they have someone in the U.S. to stay with, and that person must provide proof of a fixed address and proof of income. The money to pay the bond usually comes from relatives or friends of the detainees.
Once the bond has been paid, the woman and her children are permitted to leave the detention center to live with a relative or friend in the United States. An asylum hearing is scheduled in the jurisdiction where the woman and her children reside. If she appears at the asylum hearing, the bond is returned. But the first step for the people detained in Artesia was convincing an immigration judge that they had a credible fear of harm if they were to be sent home.
In July 2014, representatives of the American Immigration Lawyers Association (AILA) visited Artesia and reported observing severe due process violations at the facility. AILA called upon the federal government to suspend all deportations from Artesia until fundamental improvements could be made, and AILA quickly established a pro bono program to assist the detainees. An email went out asking AILA members to volunteer one week of pro bono service in Artesia. A number of Wisconsin attorneys answered the call, including the five interviewed for this article: