By Michael Gonring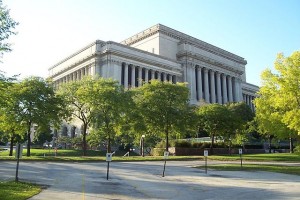 Milwaukee's Lawyer for a Day program to have volunteer lawyers provide representation to victims seeking restraining order injunctions has now been up and running for 18 months. This is an update on our progress. During our first 18 months, 478 petitioners were referred to the program through Sojourner Family Peace Center and then screened by law students at Marquette University Law School. Injunctions were granted in 71 percent of the contested hearings that we handled.
The Lawyer for a Day program is a partnership between Sojourner Family Peace Center, Marquette University Law School and Quarles & Brady LLP, that provides free pro bono representation in court to victims of domestic abuse. The project was profiled in this newsletter in July 2013, Sojourner provides Marquette with the names of petitioners who receive restraining orders on a Tuesday and who desire legal representation when they return to court for an injunction hearing on a Tuesday afternoon two weeks later. After Marquette law students have interviewed the petitioners and provided Quarles lawyers with background, the lawyers meet the petitioners briefly at the courthouse on that Tuesday afternoon and then represent them in their attempt to turn the restraining order into an injunction.
The goal of our program has been to represent as many petitioners as possible so that we can have some effect on the huge justice gap that exists for domestic abuse petitioners in Milwaukee County. Approximately 5,500 hearings a year are scheduled in the county, with less than 10 percent of the petitioners represented by a lawyer. "Restraining orders are an option for many victims who seek legal remedies to keep their abuser away from them so they can begin the healing process and achieve freedom from violence," said Hector Hernandez, Director of Advocacy Programs at Sojourner. "The Lawyer for a Day project offers relief to victims who might be too afraid to face their abuser in court or simply need the voice and support of a lawyer at their side."
Along with our successes, there have been challenges with the program. We had hoped that petitioners might be more inclined to attend court hearings if they knew they would be have an attorney, but no-shows continue to be a problem, with 140 of the petitioners referred to our program not attending their hearings in the same 18-month period. Another problem faced by the lawyers has been the inconsistency among the family court commissioners regarding the procedure for the presentation of evidence and the burden of proof. Because the program uses limited scope representation, there is also some concern that the notices of entry and withdrawal of limited appearances required as of January 1, 2015, may complicate matters. Nevertheless, everyone involved regards the program as a success and efforts have been made to enlist other firms to become lawyers for their own day. Meanwhile, Quarles lawyers are considering whether they can add another day to expand the program.