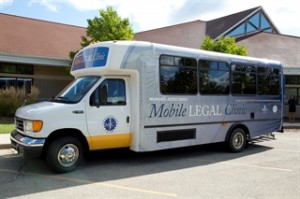 Marquette Law School and the Milwaukee Bar Association have partnered to launch the Milwaukee Justice Center Mobile Legal Clinic, a specially outfitted bus designed to help provide free, brief legal advice to individuals who find themselves outside of the areas currently served by legal volunteer efforts in metropolitan Milwaukee. The Milwaukee Journal Sentinel recently included the Mobile Legal clinic on its list of Big Ideas 2013.
The Mobile Legal Clinic was made possible by a gift from Frank Daily and Julianna Ebert to honor the pro bono work of Michael Gonring, their friend and longtime partner at Quarles & Brady LLP.
The Mobile Legal Clinic is believed to be the only service of its kind in Wisconsin, and one of only a handful in the nation. It is operated by the Milwaukee Justice Center, a collaborative project among the Milwaukee Bar Association, Marquette Law School and Milwaukee County.
The Mobile Legal Clinic had its first outing in September at the John C. Cudahy YMCA in Milwaukee. In October it visited the Woodland Resource Center in Milwaukee and it hosted monthly sessions at that location through the end of the year. In January 2014, it will be traveling to the Parklawn YMCA.
"The Mobile Legal Clinic reflects the service-oriented mission of Marquette University Law School and the larger legal profession," said Joseph D. Kearney, Dean of Marquette University Law School. "By helping those who may not otherwise be able to obtain professional legal counsel, and by doing so in their communities, the Mobile Legal Clinic will fill a gap in this region. It will also enable our students, working with attorneys and members of the community, to gain experience and develop an ethic of service."
"In the access to justice field," said Gonring, "we have to dream big because the problems are so large. Ninety-nine times out of 100 we know that the dream will not come true, but sometimes it will. The model of a mobile legal clinic is one of those things that folks discussed for years. I am very grateful to Frank Daily and Julie Ebert for ensuring that it has come to be, and I look forward to the work that Marquette Law School and the Milwaukee Bar Association can do through the Milwaukee Justice Center's Mobile Legal clinic."
The Mobile Legal Clinic is an extension of pro bono work already being done in the Marquette Volunteer Legal Clinic, where, at a variety of sites in the Milwaukee area, lawyers and current law students collaborate to assist people with legal problems.
The Mobile Legal Clinic is currently being staffed primarily by volunteer attorneys from the law firm Michael Best & Friedrich, LLP, together with Marquette University law students.