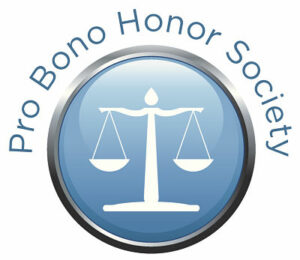 As fall arrives, now is the time to start thinking about nominating the 2014 members of the Wisconsin Pro Bono Honor Society.  The Pro Bono Honor Society is an annual recognition program that was launched last year by the Wisconsin Access to Justice Commission and the State Bar of Wisconsin pro bono program as a way to salute the volunteer lawyers who help provide access to justice for low-income Wisconsin residents. The program got off to a good start with the first class of lawyers who qualified and were nominated for this recognition based on their service in 2013 but we want to make sure that every lawyer who qualifies this year either self-nominates or is nominated by someone knowledgeable about their service.
What is the Wisconsin Pro Bono Honor Society? – It is an annual recognition opportunity to recognize Wisconsin lawyers who are meeting the highest standards of pro bono service by providing at least 50 hours of qualifying pro bono legal services to benefit low income Wisconsin residents in 2014.
How do I submit a nomination? Nominations can be made using a simple online form here.  You can nominate yourself, a lawyer in your office or a volunteer in your pro bono program who met the above standard in 2014.
What pro bono services qualify?  Eligible pro bono legal services for this program means the direct provision of legal services without fee or expectation of fee, or at a substantially reduced fee to:
persons of limited means;
organizations in matters that are designed primarily to address the needs of persons of limited means; or
charitable, religious, civic, community governmental and educational organizations to secure or protect civil rights, civil liberties or public rights so long as a substantial majority of such services benefit persons of limited means or organizations that serve persons of limited means
What does inclusion in the Wisconsin Pro Bono Honor Society mean? It doesn't mean that you have to go to more meetings or incur other obligations. Instead, you will be helping to shine a light on the importance role that volunteers play in access to justice and you will inspire other lawyers to follow your example. We will publish an annual list of the honorees on the Access to Justice Commission and State Bar websites as well as in their publications. The Commission is working with other bar associations and judges to organize local recognition events. We will also be contacting local media to highlight the pro bono contributions of lawyers in the each year's Pro Bono Honor Society.
State Bar members can find pro bono opportunities that fit their interests and skills through a searchable online pro bono directory on the State Bar's website.