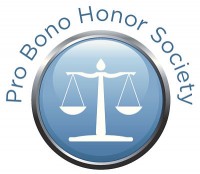 With the arrival of fall, it's time again to look back and celebrate what has been accomplished in one of the Access to Justice Commission's priority areas: expanding and recognizing pro bono service by Wisconsin lawyers. The Wisconsin Pro Bono Honor Society is the Commission's way of honoring lawyers who have made an outstanding contribution of at least 50 hours of qualifying pro bono service in the past year to help meet the legal needs of the underserved. Certifications are now being accepted for 2015. Until the end of February 2016, attorneys may self-certify that they qualify for Pro Bono Honor Society membership based on their service in 2015. In addition, others who have knowledge of the attorney's pro bono work – such law firms, pro bono programs, legal aid organizations and judges – may submit a certification for an attorney. Certifications should be submitted using the online form on the Commission's website.
The second year of the Pro Bono Honor Society saw a big increase in the number of attorneys recognized for their pro bono work – 398 attorneys in 2014 compared to 121 for 2013. We hope to see another increase for 2015.
The Pro Bono Honor Society is an annual recognition program created by the Wisconsin Access to Justice Commission with support from the State Bar of Wisconsin's pro bono program. The attorneys honored have performed at least 50 hours of qualifying pro bono legal services in the calendar year—meaning legal services performed without fee or at a substantially reduced fee for persons of limited means or for organizations that serve persons of limited means.
In an open letter from the Wisconsin Supreme Court congratulating the 2014 honorees, the Court stated:  "Volunteers are a key component of our legal services delivery system in Wisconsin and their services are a valuable contribution to the fair and effective functioning of our courts. The need is great, but time and resources are scarce. Together with the full-time staff lawyers in our legal aid and indigent defense programs, volunteers provide vital legal assistance to thousands of low income and vulnerable Wisconsin residents every year. The generosity of the Wisconsin Pro Bono Honor Society attorneys helps to ensure equal access to justice for all."
The names of the 398 attorneys in 39 counties were published on the Commission's website and in the State Bar of Wisconsin's magazine, Wisconsin Lawyer.
The Commission has enlisted circuit court judges, district court administrators and local bar officials around the state in organizing recognition events for the attorneys in their counties. Most often, these events have been part of a local bar meeting, with presentations of the certificates of recognition made by a circuit court judge. But there have also been presentations by judges at meetings of county boards, a local Criminal Justice Coordinating Council meeting, and special sessions of the circuit court. The combined efforts of the Commission, the judiciary, and local bar leaders have made it possible to honor many attorneys at a local event in their own counties, even if there are only one or two honorees in the county.  
The Commission looks forward to working with judges, district court administrators, and local bar associations to recognize an even greater number of attorneys for their contributions in 2015.