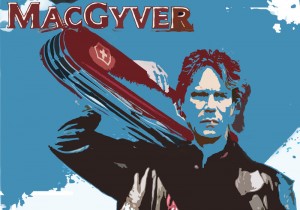 The search for new ways to address the chronic shortage of resources for civil legal aid in Wisconsin has taken on a MacGyveresque feel – sans the Swiss Army knife and duct tape. The Commission and others are always on the lookout for new ways to use old tools to come up with life-impacting solutions. Two of them arrived at the Wisconsin Supreme Court in the form of rule change petitions during the week of October 5th.
First in line is Petition 15-5 filed by the State Bar of Wisconsin – and fully endorsed by the Commission – which would for the first time allow attorneys to claim CLE credit for pro bono work. Attorneys could receive up to six hours of credit during each reporting period by performing five hours of approved work for each credit. A second request in the petition would specifically allow registered in-house counsel to perform pro bono work consistent with SCR 20:6.1. The changes have the potential to significantly drive up the number of pro bono hours performed each year around the state and thus help our legal aid providers meet their missions.
Petition 15-6 was filed by the Access to Justice Commission on October 9th and requests a rule change that would require that at least 50% of unclaimed funds in class action settlements be directed towards the state's civil legal aid providers. The proposal has earned the support of the State Bar, the Wisconsin Trial Judges Association, the Wisconsin Association for Justice, WisTAF, the Western District Bar Association of Wisconsin, and numerous civil legal aid providers. Funds generated through this rule change would help address the declining financial support from other sources.
We hope that you will take a few moments to become familiar with these requested rule changes and express your support during the comment period. Information about how to submit comments is available on the Supreme Court's website.