Wisconsin Free Legal Answers, the online legal clinic sponsored by the Commission, has been a key component of the legal community's pandemic response. As Wisconsin's Safer at Home order went into effect, all free legal clinics and self-help desks were quickly shuttered. Courts restricted who could enter to file documents or ask questions. All civil legal aid offices closed their offices to visitors and most also stopped taking on new clients at least temporarily while they shifted to working from home. That left many Wisconsinites with fewer options for getting help with their legal issues during the pandemic. Wisconsin Free Legal Answers went from being a supplemental service for in person legal clinics to being the primary option for anyone who needed brief free legal advice about a civil legal issue. The following graphic shows how our question volume has evolved over the last 6 months.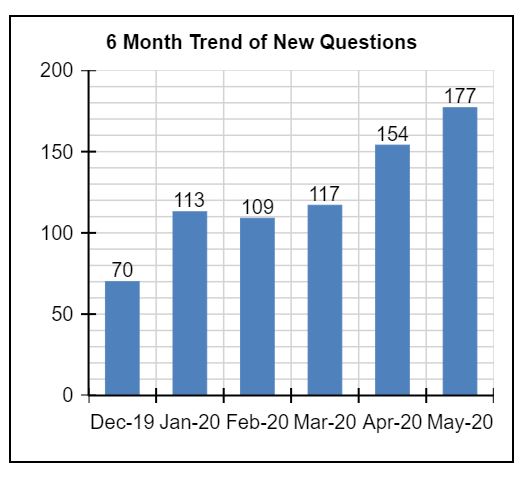 With over 260 attorneys registered as volunteers, Wisconsin Free Legal Answers is proud to be a resource for Wisconsin residents during this challenging time. Our volunteers have responded to 619 questions so far in 2020. Family law is still the top area at roughly 40% of questions, followed by employment (11%), housing (11%), consumer (8%), real estate (6%), civil rights (3%), and probate (2%). There has been a substantial increase in employment and housing related questions in the period after Wisconsin's Safer at Home order.
WKOW TV in Madison recently ran a very nice story about us as part of their Getting Answers series.
Wisconsin Free Legal Answers is a project of the Wisconsin Access to Justice Commission and is part of the ABA Free Legal Answers network.
UPDATE 6/15/2020: We ended the month of May with 201 questions submitted, a new record. Our answer rate remained at 94%.