by Beth Richlen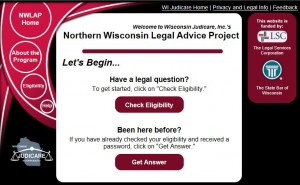 On July 1, 2013, Wisconsin Judicare and the Tenth Judicial District Pro Se Committee launched a new online legal advice website called Northern Wisconsin Legal Advice Project (www.NWLAP.org). The website is intended to provide brief legal advice to low-income residents of the 10th Judicial District, which includes Ashland, Barron, Bayfield, Burnett, Chippewa, Douglas, Dunn, Eau Claire, Polk, Rusk, Sawyer, St. Croix and Washburn counties. The website is funded by a Pro Bono Initiative grant through the Legal Assistance Committee of the State Bar of Wisconsin.
Individuals apply online, are screened for eligibility, submit their legal question, and receive a password that they can use to log in when their question is answered. The pro bono attorney (who will also get a password) logs in to view the questions by topic area, runs a conflict check, reviews the full question, and then posts brief advice for the client to log in and read. Wisconsin lawyers can participate in this project from their office, home, or anywhere they have an Internet connection.
Shortly before the website launched, all of the public libraries and courthouses in the 10th Judicial District received promotional materials and information about the project. In addition the website is advertised on the Wisconsin Judicare website.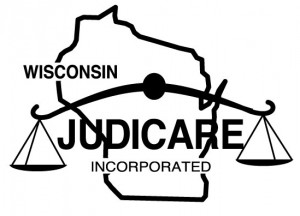 Wisconsin Judicare and the 10th Judicial District are still looking for attorneys to commit to responding to at least two questions a month from prescreened, low-income residents of the 10th Judicial District. The applicants are all instructed that the advice is limited in scope and will be limited to two interactions with the pro bono attorney. In addition, all pro bono services provided via this website will be covered under Wisconsin Judicare's professional liability insurance.
To see the service in action, visit their website, www.NWLAP.org.  Contact Attorney Beth Ann Richlen for more information or to volunteer.