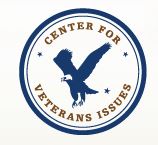 Wisconsin veterans and their families who are at risk for homelessness now have a new legal resource thanks to a VA Supportive Services for Veteran Families Program (SSVF) grant that funds a collaboration between Legal Action of Wisconsin (LAW) and the Center for Veterans Issues (CVI). The goal of the partnership is to provide free legal services through LAW to low-income veterans and their families who are homeless or who are at-risk of being homeless, who meet other eligibility requirements, and are enrolled with CVI's SSVF program. The funding allows LAW to dedicate one attorney at each of its offices in Green Bay, Milwaukee, and Racine.
Some of the legal services that LAW may be able to provide those who are eligible for the SSVF program include: assistance in applying for and retaining SSI/SSDI and other public benefits, consumer issues, bankruptcy, foreclosure defense, landlord/tenant issues, ordinance or traffic citations, driver license restoration, occupational license preservation and restoration, family, and employment issues. The purpose is to help veterans secure and maintain permanent stable housing.
Clients must contact CVI at (414) 345-4265 to be screened for eligibility before being referred to LAW. A referral form (doc) that can be used by veterans and referring agencies is available along with a map showing CVI's coverage area (pdf).