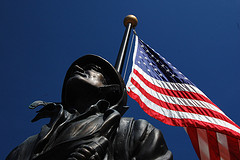 As a part of our ongoing effort to improve the delivery of civil legal services for Wisconsin residents in need, the Wisconsin Access to Justice Commission has begun working with the Wisconsin Department of Veterans Affairs, Army OneSource, and our other stakeholders to develop additional legal resources for assisting our veterans. This effort will be led by Commission member Jeff Unger, who also serves as Transition Assistance Advisor with the Wisconsin National Guard.
The Commission will be relying on this new working group to develop recommendations for specific resources that should be created or expanded by the Commission or others in Wisconsin. This effort is inspired by a very successful program coordinated by the North Carolina Equal Access to Justice Commission. Through its work in building similar partnerships, the North Carolina commission has been able to develop additional resources for their state's veterans and funding for a staff position to work with veterans organizations on an ongoing basis to respond to the civil legal needs of veterans.
Estimates of Wisconsin's Veterans Population
Total number of veterans living in Wisconsin – 2013
413,723
Total number of wartime veterans living in Wisconsin
300,424
Total number of peacetime veterans living in Wisconsin
113,298
Total number of Male veterans living in Wisconsin
380,094
Total number of Women veterans living in Wisconsin
33,629
World War I veterans
0
World War II Era veterans
21,747
Korean War Era veterans
35,496
Veterans of the Vietnam War Era (Feb. 21, 1961 – May 8, 1975)
140,064
Veterans of the Persian Gulf War Era (Aug. 2, 1990 – )
111,209
Gulf War, Deployed
10,400
Iraq and Afghanistan Wars, Deployed
33,904
Source: Wisconsin Department of Veterans Affairs 
Wisconsin has some excellent resources for veterans who need legal help. A number of the legal aid organizations funded by the Legal Services Corporation and the Wisconsin Trust Account Foundation serve veterans. There are also a number of special projects that were created to meet some of the legal needs veterans face. For example, a collaboration between Legal Action of Wisconsin and the Center for Veterans Issues assists veterans at risk of homelessness through a grant provided by the Veterans Administration. Other programs also provide legal assistance, including the Marquette Volunteer Legal Clinic's work with veterans at the Milwaukee County Veterans Service Office, the University of Wisconsin Law School's Veterans Law Center in Dane County. Volunteers like the Veterans Legal Support Group of Milwaukee County and local volunteers in Wausau and Racine have also created special projects to help veterans with a range of issues. The Staff Judge Advocate for the Wisconsin National Guard also provides some assistance to servicemembers and veterans.
Still, there is broad agreement that more should be done. The Commission's new veterans working group is an effort to define those next steps and seek broad agreement on how to make them a reality for our state's veterans.