By Bobby Peterson, Executive Director, ABC for Health, Inc.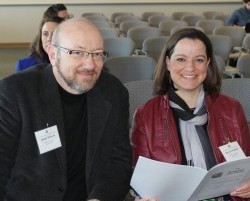 Since our founding in 1994, ABC for Health, Inc. has displayed a passion for quality legal services related to access to health care and coverage issues. We focus on linking children and families, particularly those with special health care needs, to healthcare benefits and services. ABC is a statewide public interest law firm that engages in direct legal representation, impact litigation and one-on-one client advocacy for Wisconsin's low-income individuals navigating health care coverage and services. But as our experience and expertise expands, we provide gap-filling services to many populations from infants to senior citizens.
ABC's dedication to our low-income clients and their families includes an unwavering commitment to our mission, "to provide low income people in Wisconsin the legal services and expert support they need to obtain, maintain, and finance health care coverage and services." Funding from the Wisconsin Trust Account Foundation (WisTAF) provides critical support of our innovative legal service delivery program. ABC's legal expertise successfully leverages other funding that includes outreach and education and service contracts with health care providers to help patients.
Uniquely, we may be the only public interest law firm in the country funded to create a tech startup by the National Institute of Health. My Coverage Plan Inc., the new subsidiary, is building a promising new health IT tool that helps reduce avoidable health disparities. In short, ABC actively works at both "micro" and "macro" level strategies to help link people to vital health care coverage programs.
As an organization, we provide family centered and culturally competent client services that reflect real world requests for legal representation, assistance and advocacy with public and private health care coverage matters. ABC's legal expertise and benefits counseling assistance spans the spectrum of health reform and coverage related legal matters, including Medicaid, BadgerCare Plus, private insurance and medical debt issues.
We work hard to understand and explain the provisions of health reform, benefits denials from private and public benefits, and how to better coordinate multiple forms of benefits and avoid medical debt. Our "big picture" policy efforts help affiliated groups within our HealthWatch Wisconsin Network. This public health workforce network drives additional referrals and promotes opportunities to train service providers across Wisconsin. Our trainings, including webcasts produced in our in-house studio, help spread the knowledge and wisdom gained at ABC through our client services work. Our clients and networks rely on both the client service and teaching and training expertise of ABC to navigate new and emerging laws and requirements that relate to access to health care and coverage. This large task is not easy, and over the past 20 years ABC has relied on and is grateful for the committed support from our funders and the tremendous assistance of law student interns, volunteers, and a dedicated staff and board of directors. We expect more challenges and rewards in the coming years, but will continue to be humbled by the strength and perseverance of the many families we serve every day who continue to educate and inspire us all.