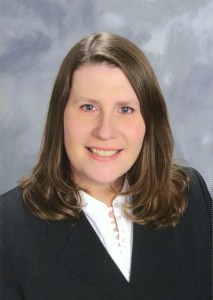 The Legal Aid Society of Milwaukee (LAS) was founded in 1916 "to do all things necessary for the prevention of injustice." It is one of the nation's oldest, continuously operating, public interest law firms, and it provides free legal assistance to needy Milwaukee County residents with civil legal problems.
Karen Bauer, a staff attorney with LAS, handles foreclosure defense, consumer law and student loan law cases. "Student loan law is kind of unique," Bauer said. "Most people think student loans are not dischargeable in bankruptcy and so don't think there are any legal remedies available. That's a misconception." Bauer pointed out that many people also aren't aware of the Public Service Loan Forgiveness Program signed into law by President George W. Bush in 2007.
"Consumer protection law was my interest in law school. I became interested in student loans due to my own large student loan debt. I worked hard to pay tuition in college and law school, but at some point I had to take out loans," she said.
Bauer shares what she knows in training presentations about legal remedies in the area of student loans. "Many people don't know there are legal remedies. I want lawyers to know about them so they can share that information with their clients," she said.
When asked why she chose to practice in the area of social justice, Bauer said, "I was the kid who got upset when something was unfair. I always cheered for the underdog." Bauer recalled an event from her childhood that had a profound effect on her career choice. "When I was a child, my dad hired a contractor to correct a water problem in our basement. He paid half the cost up front. The contractor dug a moat around the house to install a tile drainage system, then demanded payment in full for work to be continued. My dad paid the remaining balance, but we never saw the contractor again. My dad didn't have enough money to hire another contractor or a lawyer, so we lived with a moat around our house for a long time until my dad saved enough money to hire another contractor to complete the job. The look on my dad's face stays with me."
"I sometimes see that look on my clients' faces, and I feel so good when I can help them. My clients are just like you and me — they have a dream for a good life, but it might not go as planned. Perhaps they bought a house at the height of the market and now the house is worth less than their mortgage. Perhaps they bought a car and agreed to unfavorable terms because they didn't understand them."
My favorite part of my job is my clients. They have had very different lives from me; they have not had the opportunities I've had. I am impressed with their ability to make ends meet under very difficult circumstances. There is a lot of joy in helping someone who might not otherwise get the help they need. They are so appreciative. You could say I get paid in warm fuzzies.
Clients come to LAS in several ways. LAS does intake at their office two days a week; offers outreach to domestic violence shelters, churches that serve the poor, and veterans groups; makes community presentations; and has a Facebook page, a website and a brochure describing the services LAS offers. The need for LAS services in increasing. Bauer noted that they used to see 12-15 new clients a week, but in a recent week they saw 32 new clients.
Bauer described a project she started at the LAS office. She brought in some books her 3-year-old daughter had outgrown and left them in the lobby, which LAS shares with Community Advocates. Children who were visiting the office were told they could take a book home with them. The project grew when Bauer's family, friends and coworkers also began donating books, and so far more than 1,000 children's books have been given away.
Bauer pointed out that Legal Aid was headed by women for years after it started in 1916, and once again has women heading up the organization in the positions of Executive Director, Civil Unit Chief Staff Attorney, and Children's Court Division Chief Staff Attorney. "It's actually a really unique thing about Legal Aid," she said.
When asked what advice she would offer to new attorneys, Bauer noted that research shows people in public service jobs are generally much happier than those who work only for a large paycheck. She said, "Start networking while you're still in law school with people who work in the area of law you're interested in. Look for a mentor. They are everywhere." Bauer also suggested expanding your job search and keeping an open mind about where you want to work. "I'm from the Milwaukee area, but my first job was in Wausau. I learned so much there. It was a tremendously positive experience."