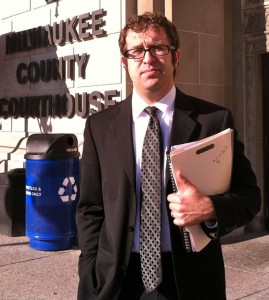 You could say it started at a homeless shelter. Jason Mishelow was a college student when he volunteered at Legal Action of Wisconsin and was asked to assist residents at a homeless shelter. Thus began a career dedicated to social justice issues and helping those in need. Mishlow received his law degree from Georgetown University Law School in 2002. In 2003, he joined the staff of Centro Legal, a nonprofit legal services agency on the south side of Milwaukee, where he currently serves as the senior attorney and chief financial officer. He is a past president of the Society of Family Lawyers and a certified mediator.
At Centro Legal, Mishelow practices in the area of family law, serving as advocate counsel and guardian ad litem. He has provided representation in more than 1,000 cases during his tenure. Heather Ramirez, Executive Director of Centro Legal, described Mishelow as "a tireless advocate for his clients. His wealth of experience allows him to provide the highest level of legal service to low income residents in our community. His passion and commitment to his work are evident to anyone who meets him."
"I never mind coming to work," Mishelow said. "I like trying to help people. This is important and rewarding work, and I enjoy doing it."
For the past four years, Mishelow has presented legal education workshops at social service agencies throughout the Milwaukee area. "It offers an opportunity to have a substantial impact on a large number of people in a short amount of time," Mishelow said. Workshops are presented at partner agencies, such as the YWCA, Meta House and Milwaukee County's Pathway to Responsible Fatherhood Program. We try to "clear up some of the misunderstanding and misinformation about the court system. We tell them what to expect when they go to court, and what the court expects from them," said Mishelow. Last year, 500 people attended the classes.
When asked what he would say to a young attorney just starting a career, Mishelow offered this advice. "Find a mentor – someone who doesn't just litigate but who uses the law to resolve the client's issues, rather than someone who uses the law to fight. Find a mentor who will teach you how to be a good lawyer."

Founded in 1991, Centro Legal is a nonprofit law firm providing affordable legal help for individuals and families in Milwaukee County. The organization offers representation in family law and misdemeanor defense cases, a program for survivors of domestic abuse, and service as court appointed counsel for minors in family and paternity courts. The goal is to help clients maintain stable homes and employment in the face of legal difficulties. In 2013, Centro Legal provided representation in 800 client cases and served more than 1,300 people through their family law classes and consultation program.